Gold Cup and Saucer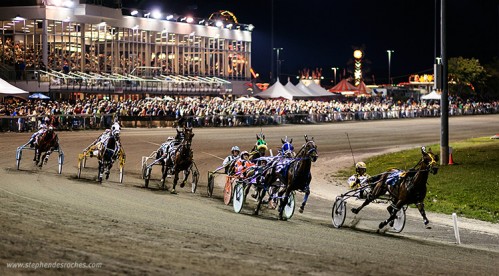 If you're looking for one of the most unique and entertaining racing experiences, in the most beautiful setting, you want to be at the Gold Cup and Saucer in 2019. Held in Charlottetown on Prince Edward Island, just off the East Coast of Canada, it's been held since the early 1960s and has been considered one of the most celebrated harness racing events in Eastern Canada. Each August, as a culmination of Old Home Week, the fastest horses and most skilled drivers compete in 15 racing programs in nine days. With racing taking place during both the day and night at Red Shores Racetrack and Casino.
The race itself is the final event during Old Home Week where a little history is added to on Gold Cup night, as the Island Hymn is played and the crowds focus their attention on the horses and drivers approaching the field. All of the lights go out oncourse. Both horse and driver are introduced to the packed crowd by spotlight, to the roars of the crowd. At exactly two minutes to midnight, the call to the post is heard, and horse and driver get ready to compete in the Gold Cup and Saucer Race, one of the most anticipated shows in harness racing. The race caller himself is so revved up you have to wonder how his voice lasts a whole race card, outdone only by the screams of the crowd.
Old Home Week also incorporates The Gold Cup Parade where 60,000 line the streets of Charlottetown to celebrate the historic race, enjoying the streams of floats, marching bands – some with drums and bagpipes, and some with brass – as well as the fun-loving clowns, balloon displays, children's performers and the ever-popular vintage cars.
Scores of volunteers design and build floats on which they wave and dance and greet the crowds. Amongst the audience, the biggest smiles will be found on the faces of the children while they watch wide eyed with excitement and enjoy waving back to everyone in the parade.The Gold Cup and Saucer Parade is a testament to the enthusiasm displayed by locals to honour the time old traditions which encompass the entire spirit of celebration each year during Old Home Week.
Old Home Week also offers entertainment similar to a New Zealand A&P Show, with agricultural shows, amusement rides and live music. Plus the casino is attached to the Red Shores track offering plenty of excitement along with the Island's own tourist features.
It promises to offer not only a harness racing experience that so many include on their bucket list, but opportunities and memories that you'll treasure for a lifetime!
Gold Cup and Saucer
Canada
10 - 21 August
TRIP ITINERARY:

Saturday 10th August – Travel
Depart Auckland in the evening (domestic connections available) and fly direct to Vancouver on Air New Zealand. Then after a short stopover in Vancouver, board an Air Canada flight to Toronto, arriving late that evening. Stay @ Novotel Toronto Centre
Sunday 11th August – Coleman and McDonald Stables
Morning visit to Casie Coleman Stable (four time Canadian trainer of the year and trainer of Sportswriter, Betterthancheddar, Betting Line, McWicked). Casie is the wife of Mark Herlihy, son of NZ harness great, Tony Herlihy – about an hour from Toronto. Visit to Anthony MacDonald's Stable for lunch and afternoon tour, founder of fractional ownership model 'The Stable.ca'. Free night/dinner in Toronto. Stay @ Novotel Toronto Centre.
Monday 12th August – Niagara Falls and Mohawk Race Track
Niagara Falls visit in mid-day/afternoon, then Mohawk harness races and dinner that night at the track. Stay @ Novotel Toronto Centre.
Tuesday 13 August – Stud Farm Visits
Visit Tara Hills Stud (standing Kadabra, Sportswriter, Muscle Mass, He's Watching to name a few) and Prince Lee Farm (former home of Cam Fella and tour by Ryan Clements founder of Catch Driver Harness Racing game). Return to Toronto. Free night. Stay @ Novotel Toronto Centre.
Wednesday 14 August – Free Day/Optional Baseball game
Optional Blue Jays baseball game during the day including ticket to game and buffet. Stay @ Novotel Toronto Centre.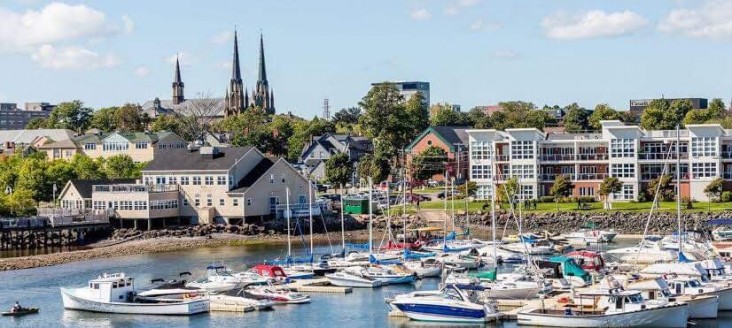 Thursday 15 August – Fly to Prince Edward Island/ Races at Red Shores
Fly to Prince Edward Island off the east coast of Canada. Stay in Charlottetown. Races 7.00pm at Red Shores and Casino including dinner. Stay at Rodd Charlottetown.
Friday 16 August – Gold Cup and Saucer Parade/Races at Red Shores
Free day, optional Gold Cup and Saucer Parade in morning. Discover the local sights or visit the carnival at the race track. Races 7.00pm at Red Shores and Casino, including dinner. Stay at Rodd Charlottetown.
Saturday 17 August – Gold Cup and Saucer Race Night
Free day then races at night from 7.00pm. Discover the local sights or visit the carnival at the race track. The feature race night is the Gold Cup and Saucer with the race going off at midnight. Hospitality sells out a year in advance so it's general admission with plenty of food and beverages available. Watch the field introduced by spotlight in darkness. A truly unique race and a party atmosphere! Stay Rodd Charlottetown.
Sunday 18 August – Free Day/Back up Races Day
Should rain postpone the Gold Cup and Saucer they will hold the event on the Sunday night. So this is a free day to enjoy the sights of Prince Edward Island should the races go as planned on Saturday night. Stay at Rodd Charlottetown.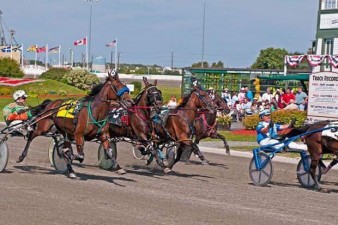 Monday 19 August – Travel
Fly back from Prince Edward Island to Toronto with Air Canada, a short transit in Toronto, before flying on to Vancouver. A couple of hours at Vancouver International Airport before departing that evening.
Tuesday 20th August – In flight
Wednesday 21st August – Arrive home
Land back in Auckland at 5.15am.

Please note that breakfast is included at the hotels in this package. And dinners at Red Shores (apart from Gold Cup Night) are included in this package.
Lunch is included at Anthony MacDonalds farm and also at the optional Baseball Game should you include this in your package.
All other dinners and lunches are not included, but accommodation at the Novotel in Toronto is located right next to the entertainment district of downtown Toronto allowing for freedom of choice around free nights.
Personal Quote