Bathurst 1000
2022 Bathurst 1000 Travel Packages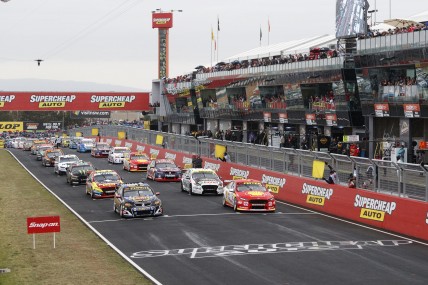 They don't call it "The Great Race" for nothing. The annual pilgrimage to Mount Panorama is something that every Kiwi racing fan needs to experience. The jewel in the Supercars crown always produces memorable moments and four days spent on "the hill" will certainly provide you with memories you will never forget. Whether you have been there before, or you are looking to experience Bathurst for the first time, let Boys Trip take all the hassle out of your trip to the Bathurst 1000.

We offer three different package options to the Bathurst 1000; the Campervan Package, the Motel Package and the Sydney Weekend Package. There's something to suit every taste and budget.

Boys Trip are New Zealand's preferred Bathurst 1000 tour company, offering the most flexible and affordable travel packages.
Sydney Weekend Package
Sydney
7 - 10 Oct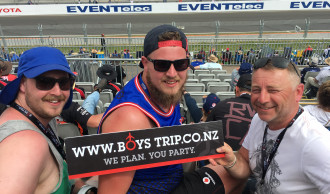 This package is for the person who wants to be there for the big race, but can't afford to take too much time off work, or is on a budget. You 'll have three nights in Sydney, plenty of sightseeing time in Australia's biggest city, before heading through to Bathurst on the Sunday for all the racing action.
Depart AKL/WLG/CHC/ZQN (regional connections available) on Friday 7th October, we've got your airport transfers sorted and three night's accommodation at the 4-Star Mantra 2 Bond Street Hotel in Central Sydney. On the first night you'll get to meet other Boys Trip travellers at our Drinks & Nibbles Welcome Function. Then on the Saturday either explore Sydney (we suggest heading to the Randwick Racecourse), or head through to Mount Panorama for the Supercars Shootout and qualifying. Then on the Sunday, the Boys Trip coach will pick you up from outside the hotel and take you directly to Mount Panorama for the big race, the 2022 Bathurst 1000. At the conclusion of the days racing, you'll be transported back to Sydney, stay that night and then fly back to New Zealand on Monday 10th October.
Our 2022 Bathurst 1000 Sydney Weekend Package includes;
Return Air New Zealand 'The Works' fares to Sydney on Friday 7th October, returning on Monday 10th October
Return Sydney International Airport to Mantra 2 Bond Street transfers
3 nights at the 4-Star Mantra 2 Bond Street Hotel
Welcome 'Drinks & Nibbles' Function on the night of Friday 7th October
Return luxury coach transfers from the Sydney hotel to the Mount Panorama track on the Sunday (with the option of Saturday as well)
Sunday General Admission Passes (with Paddock Passes) to the 2022 Bathurst 1000
Cover More Travel Insurance
Official Boys Trip 2022 Bathurst 1000 polo or t-shirt
For this package you are looking at $2,200 per person, based on twin/double share. Prices can vary depending on numbers, departure city and optional extras, as always you can personalise this package to suit. If you have Air New Zealand credit you would like to use, just let us know and we can remove the airfares from your package and you can book them directly with Air New Zealand using your credit.
Plus, we also have the option of attending the Saturday at Mount Panorama as well. It's just an extra $120 per person to add on Saturday return coach transfers and Saturday Bathurst 1000 passes.
Optional Extras
Stay an extra night or two in Sydney
If three nights isn't long enough for you, then we can extend your trip. Just let us know if you would like to stay extra nights at the Mantra 2 Bond Street Hotel.
Starting from an extra $180 per person, per night
Attend Saturday at Mount Panorama
If you'd like to be at the shootout/qualifying day on the Saturday at Mount Panorama, we'll be putting on a coach for our clients to attend.
Extra $120 per person (includes return coach transfers and Saturday General Admission pass)
Corporate Hospitality
Why not treat yourself and go with a weekend corporate hospitality upgrade? Join us in our Boys Trip Pit Roof Villa, which is in a prime spot on Pit Lane, elevated above the garages and with a great view of the start/finish line and the pit area and with all the bells and whistles you would expect with corporate hospitality, there's no better place to be. Only available as a Weekend Pass, our hospitality packages include;
Daily Morning and Afternoon Teas
Daily Hot Buffet Lunches
Beverages including beer, wine, soft drinks, tea & coffee (from 11am until 5pm)
Television monitors to ensure you don't miss any of the action

Extra $1,300 per person (includes Sat & Sun)
Grandstand tickets are only available in 4-Day passes, you cannot purchase single day or Weekend grandstand passes.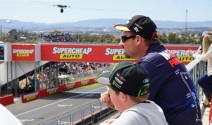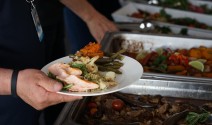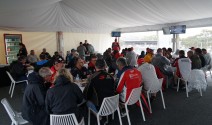 What You Need To Know
Flights
While our package pricing is for flights departing from Auckland, Wellington, Christchurch or Queenstown, let us know if you would prefer to fly out of a different airport and we can add regional connections on to your package. Boys Trip has established an excellent partnership with Air New Zealand and they are our preferred carrier for all our packages. Your package includes Air New Zealand's 'The Works' fares, which include 23kg of checked baggage, 7kg of carry-on luggage, seat requests and in flight meals and drinks. If you would prefer one of their other fare types, 'Seat Only' (no check in baggage, no meals) or 'Seat and Bag' (no meals), 'Premium Economy' or 'Business Class' then just let us know and we can take care of this for you. All flights include the $25 New Zealand Departure Tax Fee, which is included in the cost of your airfares.
Coach Service
The Boys Trip coach will collect everyone from outside the Mantra 2 Bond Street Hotel at 5.30am on the Sunday morning and head directly through to the Mount Panorama track in time for the start of the days racing. At the conclusion of the racing (usually around 5.30pm), the coach will transport everyone back to the Mantra 2 Bond Street Hotel. There will also be the option of heading through to the track and back on the Saturday as well too and departure times will be similar.
Sydney Accommodation
Boys Trip prefer to use Mantra Hotels and our accommodation in Sydney is at the Mantra 2 Bond Street Hotel in Sydney City, this is a 4-Star property, which features a heated rooftop pool, spa, 24 hour reception, gym, restaurant, bar and room service. Take your choice from;
Executive Studio Room (King bed

or

two single beds)
2-Bedroom Apartment (King bed and Queen bed

or

Queen bed & two single beds)
3-Bedroom Apartment (King bed and two Queen beds

or

two Queen beds & two single beds
Sofa beds can be added to any room for an additional $50 per night
Tickets
Our Sydney Weekend Package includes a Sunday Only General Admission ticket (with Paddock Pass). Unfortunately, you cannot purchase Sunday only grandstand passes or corporate hospitality passes. If you are interested in attending the Saturday of racing as well, it's just an extra $120 per person, which includes return coach transfers and Saturday General Admission pass and if you are attending both days, then Corporate Hospitality is available as a 'Weekend Package', this includes grandstand seating, and a full food and beverage service on both days. With the Paddock Pass, you can access 'The Paddock' from inside the Paddock, you can see the teams working in the garages, the amazing purpose built team transporters and maybe even grab an autograph. The Paddock Pass gives you a behind the scenes look at where all the action takes place.
Insurance
We include Cover More Essentials Travel Insurance with our packages. If you already have made arrangements for travel insurance, let us know. If you wish to know more about our Cover More Travel Insurance, let us know and we can e-mail you a brochure.
We do have some flexibility with travel dates and package inclusions, so if something doesn't quite suit you, let us know and we can try to cater the package to suit your personal requirements.
For all our terms and conditions, check out http://boys-trip.co.nz/terms
Personal Quote