NRL Grand Final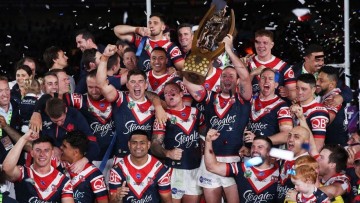 You know that no matter who ends up in the NRL Grand Final, that it will be a great game. The NRL is a grueling competition, which slowly whittles 16 teams down to just 2 over the space of 7 months. Make sure you are in Sydney this October for the finale of the 2020 NRL season, by letting Boys Trip take care of everything for you.

The NRL have announced that due to the Covid-19 virus, this year's NRL Grand Final will now be played on Sunday 25th October.
Due to Trans-Tasman border restrictions, it is unlikely that Kiwi's will be able to fly over to Sydney to attend this year's NRL Grand Final. However, if you are interested in heading to this year's (or the 2021) NRL Grand Final, register your interest by filling in the form below and we'll be in touch when we have more details.
Booking Policy
Booking in advance is highly recommended to ensure the opportunity to experience world-class hunting and to avoid the disappointment of guide unavailability. Bookings do fill fast, particularly for the months of March through to May as this is the red stag roar period.
Bookings require a 30% deposit. Deposits are to be paid within one week of the client receiving their deposit invoice.
Payment methods to confirm bookings include - Bank transfer, Visa, MasterCard, cheque or cash. Credit Card payments will incur a 4% surcharge.
Cancellation Policy
Deposits will be non refundable for trips that are cancelled by the client within 28 days of trip commencement.
Trips cancelled by the client within 14 days of the trip commencement date will require full payment (100%) of the hunting trip.
Under severe weather conditions trips may be cancelled within 48hrs of the trip commencement where client safety and comfort is an issue. This is at the discretion of both guide and client (this is incredibly rare and unlikely). In the case of a trip being cancelled due to severe weather and conditions 50% of full payment will be required. However if the trip can be rescheduled then this 50% will go towards the clients cost for their rescheduled trip.
*Please note that the final balance is to be paid at the completion of the trip. Animal and trophy fees may apply to this balance.
Bank transfer is the preferred method of deposit payment. All bank transfer fees must be paid at the time of transfer or alternatively they will be recovered upon duration of trip. Please use your surname as a reference on the transfer payment. Contact us to discuss alternate options if this is not your preferred payment method. Once the deposit is paid in full an official confirmation of the booking and details will be sent to you.
Special Covid-19 Conditions:
As the world works through the Covid-19 Pandemic, normal booking policy applies.
Bookings that are directly effected by the Covid-19 virus are eligible to be transferred to the following season with no fees incurred. If the trip can not be undertaken the following season then standard T&C's apply to the deposit at the time of cancellation. Bookings cannot be transferred any further out than the following season from the original booked trip.
Register your Interest